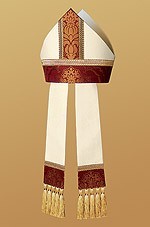 Mitres - Custom Request
SKU:
MCR0001
---
Please call or send us an e-mail if you would like to discuss a custom mitre. Our Sainte-Chapelle Mitre, pictured here, features a foundation of our own Ivory Cstercian Blend fabric with gold on garnet San Carlo damask of pure silk and gold galloon.
Items from our catalog will be shipped by UPS ground service according to the following schedule, counting from the day the order is processed:
1-2 days: Incense, Chrism, altar linens and vessels.
8-10 weeks: All dalmatics, sets.
10-12 weeks: Most concelebration and plain stoles, plain chasubles, Nazareth, Cloisters and Canterbury chasuble sets, Worcester Knit concelebration albs, altar linens and vessels. Normally 10-12 week delivery for designed vestments, custom designs and altar vesture.
11-12 weeks: Chasubles.
Shipping is by UPS, regular surface routing. UPS requires a street address and cannot deliver to a post office box.