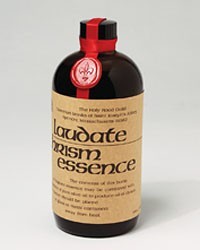 Laudate Chrism Essence
SKU:
7111
---
Our own blend of aromatic oils. This sixteen ounce bottle of essence mixes with three gallons of olive oil to produce a fragrant oil of chrism.
Items from our catalog will be shipped by UPS ground service according to the following schedule, counting from the day the order is processed:
1-2 days: Incense, Chrism, altar linens and vessels.
8-10 weeks: All dalmatics, sets.
10-12 weeks: Most concelebration and plain stoles, plain chasubles, Nazareth, Cloisters and Canterbury chasuble sets, Worcester Knit concelebration albs, altar linens and vessels. Normally 10-12 week delivery for designed vestments, custom designs and altar vesture.
11-12 weeks: Chasubles.
Shipping is by UPS, regular surface routing. UPS requires a street address and cannot deliver to a post office box.